Safe... it doesn't have to mean slower.
Security is everyone's responsibility and at CMX we believe security should improve the travel experience, not impede it. Short lines, friendly customer service, and a great travel experience is what we strive for at CMX. To help enhance your travel experience please help us by taking the following steps before going through security:
TSA's Travel Tips
Before you go...
Visit www.tsa.gov for all the latest security policies

Liquids, gels, and aerosols are permitted in 3 ounce containers, placed in 1 quart size, clear plastic, zip-top bag. One bag per traveler.

Medically necessary liquids like breast milk, baby formula, and insulin, are permitted and must be declared to a security officer at the checkpoint.

Pack valuable and fragile items in your carry-on

Remove all items from pockets and any accessories, including wallets, belts, money and keys, before going through screening. Removing these items will reduce the need for additional screening.

To avoid leaving any personal items behind, place them in carry-on-bags prior to entering the checkpoint.

If carrying a firearm, please check with your airline for appropriate procedures.
Three Simple Steps to Security...
Show your government-issued ID and boarding pass to the security officer at the checkpoint.
Take your 3-1-1 bag out of your carry-on and place separately in the bin. Declare all medically necessary liquids to a security officer at the checkpoint.
Take laptops and other large electronics out of their cases and place in a separate bin for X-ray screening.
Remove footwear and place in a bin. Wearing footwear that can be easily removed helps speed the process. Please also remove jackets and sweaters and place in a bin.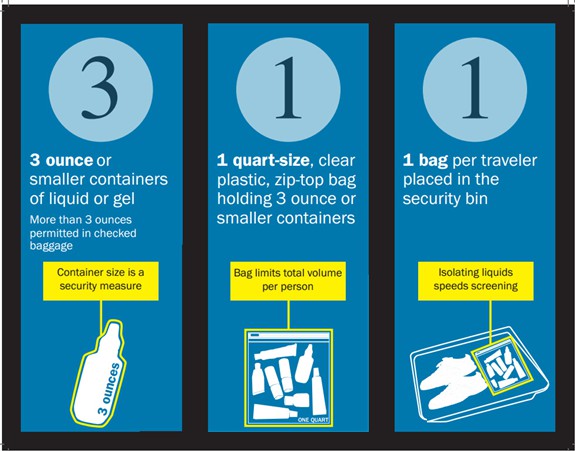 Airline and Airport Security is constantly changing and improving, for the latest security regulations and travel tips please go to the Transportation Security Administration website at www.tsa.gov